About me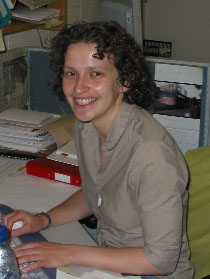 I have been a Senior Lecturer of applied mathematics at the University of Glasgow since September 2003 and I am a member of the
'Boyd Orr Centre for Population and Ecosystem Health'
. Prior to this I was a PIMS Post Doctoral Fellow under the supervision of
Mark Lewis
at the University of Alberta. I completed my PhD (1998-2001) in Mathematical Biology at Heriot-Watt University supervised by
Jonathan Sherratt
, and my BSc. (1993-1996) and MSc. (1996-1997) in Mathematics at the University of Warwick. My research interests lie in the field of Mathematical Biology.
Click to download a complete CV cv.pdf
PhD position:
We are currently seeking applications for the PhD studentship
'Modelling the phenological effects of multiple environmental drivers on mosquito populations. What is needed for the mosquito perfect storm?
Podcast talk by me on "Mathematics Meets Biology"
Contact information:
School of Mathematics and Statistics
Room 508
University of Glasgow,
University Gardens,
Glasgow, G12 8QW, UK
Tel: +44 141 330 4356
Fax: +44 141 330 4111
E-mail: