About me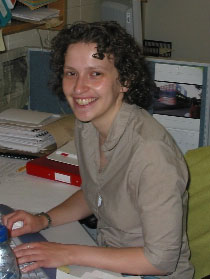 I am a Professor of Mathematical Biology and I the have been based at the University of Glasgow since September 2003. I currently hold a Leverhulme Trust Research Fellowship. I am an associate member of the
Institute for Biodiversity, Animal Health and Comparative Medicine
and a member of the
'Boyd Orr Centre for Population and Ecosystem Health'
. Prior to this I was a PIMS Post Doctoral Fellow under the supervision of
Mark Lewis
at the University of Alberta (2001-2003). I completed my PhD (1998-2001) in Mathematical Biology at Heriot-Watt University supervised by
Jonathan Sherratt
.
My research interests lie in the field of Mathematical Biology. I am particularly interested in host-parasite and host-pathogen systems and how environmental variations (e.g. in host environment, in temperature, or spatial heterogeneity) impact on these interactions.
Postdoc position:
We are currently seeking applications for a 20 month (possibility of extension) postdoc position to
model the infection dynamics of human and animal African trypanosomiasis
Podcast talk by me on "Mathematics Meets Biology"
Contact information:
School of Mathematics and Statistics
Room 331
University of Glasgow,
University Place.,
Glasgow, G12 8QS, UK
Tel: +44 141 330 4356
Fax: +44 141 330 4111
E-mail: